Kieran Trippier confronted angry Newcastle fans following their 2-0 defeat at Bournemouth and has urged them "not to panic".
A depleted Magpies side, who were without 11 players due to either injuries or suspension at the Vitality Stadium, were deservedly beaten on the south coast as Dominic Solanke's double ended their seven-match unbeaten league run.
As the players went to applaud the travelling fans after the final whistle, England full-back Trippier was filmed on social media responding to a supporter by saying: "Are the lads not giving everything? How many injuries have we got?"
Highlights from Bournemouth's match against Newcastle in the Premier League

Afterwards, Trippier played down the incident as he told Sky Sports: "The fans are emotional, they have travelled a long way.
"I had a chat with one of them, saying we are giving everything and there's no need to panic.
"We got beat and we apologise for that result, but the lads are giving everything."
Questioned about the altercation, Newcastle boss Eddie Howe told Sky Sports: "Kieran is fine. Emotions run high.
Eddie Howe said the reason for Trippier's altercation with a Newcastle fan at full-time was that emotions were running high following their 2-0 loss

"We all feel a bit emotional after that from our perspective.
"We value all our away support, we value them greatly. We thank them for their support."
Redknapp: Trippier's fan altercation 'just passion'
Former Liverpool midfielder Jamie Redknapp believes the spat between Trippier and the fans will quickly be forgotten.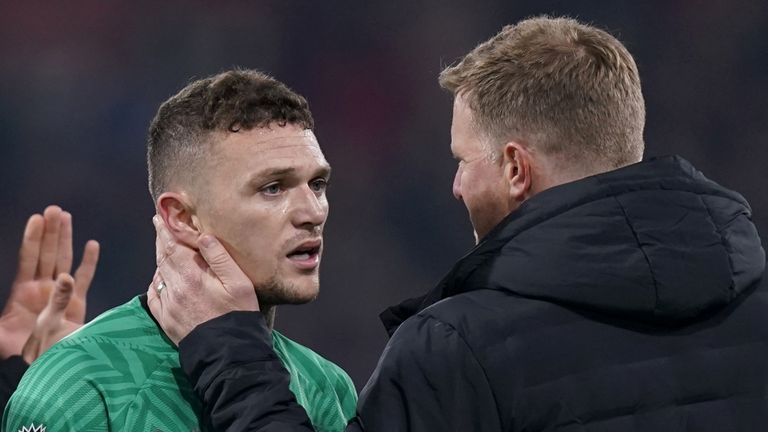 He told Sky Sports: "You see a face or someone giving you a bit of stick and it happens as it's just passion.
"One thing I will say about Kieran Trippier is he's arguably been the club's best signing [since the Saudi takeover] in the dressing room, on the pitch.
"He's been unbelievable for that club and nobody cares more than him. It'll very soon be forgotten."
Ex-Newcastle striker Les Ferdinand added to Sky Sports: "As he said, it's an emotional time. You're never going to be able to put your point across at that moment in time.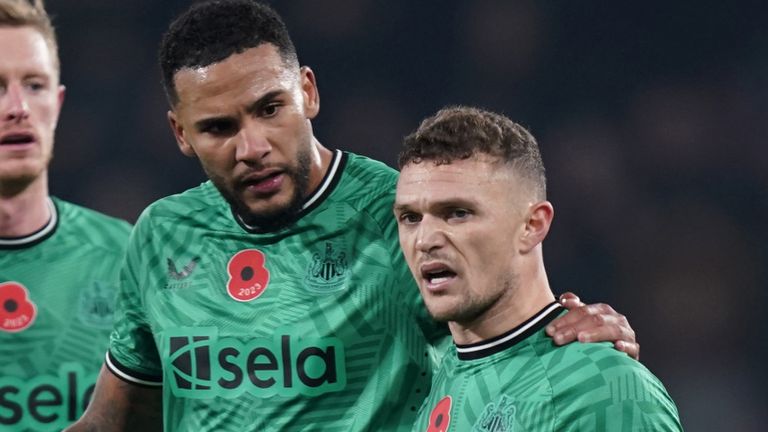 "The fans are disappointed having travelled a long way and not seen the team reproduce the level of performance Newcastle have put in this season. We're all emotional when it comes to these type of games."
Howe: We were unrecognisable in Bournemouth loss
It was a nightmare return to Bournemouth for Howe as he saw Newcastle's injury crisis deepen with striker Callum Wilson set for a spell on the sidelines, while they lost Miguel Almiron to a hamstring injury midway through the first half.
The long casualty list meant a first Premier League start for 17-year-old Lewis Miley in central midfield as Newcastle ended the match with Ben Parkinson, an 18-year-old who had never previously made a first-team appearance, playing alone in attack.
Highlights from Bournemouth's match against Newcastle in the Premier League

Howe said in his post-match press conference: "It was a game where we couldn't be where we needed to be for it and it was a tough watch. We were unrecognisable today.
"It was a real off day. There are reasons, but I don't want to sit here and make excuses. I want to support the players."
Howe added to Sky Sports: "The [international] break has come at a good time for us but I don't necessarily think it will bring a flood of players back.
"We have long-term injured players. Hopefully we can get one or two back, while Bruno [Guimaraes] was suspended at a bad time.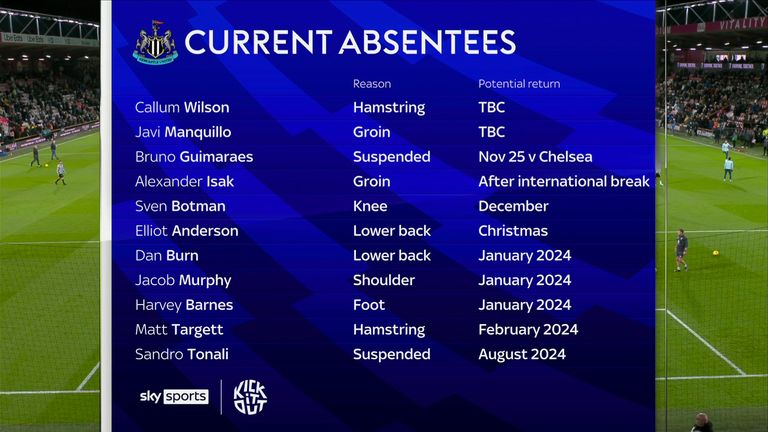 "We didn't have the options on the bench to change things and Miggy [Almiron's] injury made things even harder.
"There's no criticism of the young guys who came in today but it was a tough environment for them. We suffered the consequences.
"In an ideal world, there were a couple of players we'd have liked to have brought off sooner than we did today and it's just a sign of how stretched we are."
Trippier: International break has come at 'perfect time'
Newcastle now have a two-week hiatus before facing Chelsea at home on November 25, and Trippier believes the international break has come at the "perfect time.
Dominic Solanke reacts quickest to fire Bournemouth ahead

The 33-year-old told Sky Sports: "It was obviously frustrating. We weren't ourselves. We were way off it and Bournemouth deserved the win.
"They are a good side. We knew it would be tough coming here. We tried to play our way under the circumstances – but there's no excuses.
"That's the reality. We wanted to play Champions League football and in every competition. This is what we want. We've lost a lot of players but this is when we need to stand up and give even more. The international break has come at a good time for us.
Solanke strikes from close range to double Bournemouth's lead

"We fell into their traps and made it like a basketball game. We needed to stamp our authority. We need to come back with a clear mind for Chelsea in the Premier League.
"It's a great experience for the young lads. We will need everyone. They have trained well, handled themselves well and we will need that.
"We have a few weeks for the lads who are injured to get fit again. It's the perfect time [for the international break]."