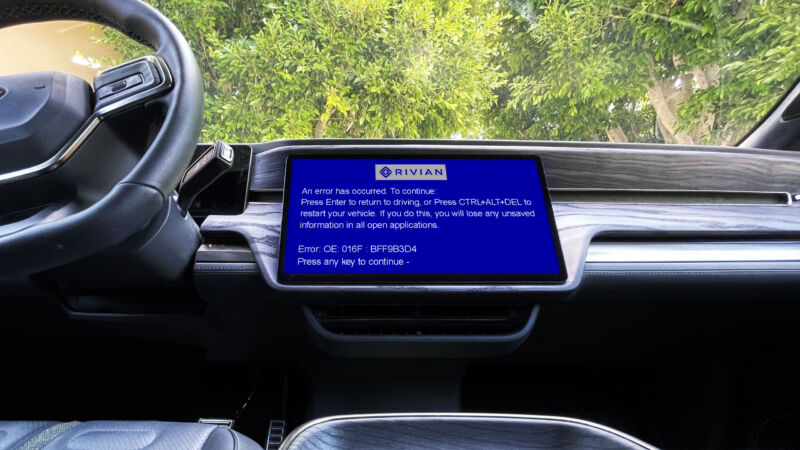 The more innovation-minded people in the auto industry have heralded the advent of the software-defined car. It's been spun as a big benefit for consumers, too—witness the excitement among Tesla owners when that company adds a new video game or childish noise to see why the rest of the industry joined the hype train. But sometimes there are downsides, as some Rivian owners are finding out this week.
The EV startup, which makes well-regarded pickup trucks and SUVs, as well as delivery vans for Amazon, pushed out a new over-the-air software update on Monday. But all is not well with 2023.42; the update stalls before it completes installing, taking out both infotainment and main instrument display screens.
Rivian VP of software engineering Wassym Bensaid explained the problem in a post on Rivian's subreddit:
Hi All,
We made an error with the 2023.42 OTA update – a fat finger where the wrong build with the wrong security certificates was sent out. We cancelled the campaign and we will restart it with the proper software that went through the different campaigns of beta testing.
Service will be contacting impacted customers and will go through the resolution options. That may require physical repair in some cases.
This is on us – we messed up. Thanks for your support and your patience as we go through this.

Update 1 (11/13, 10:45 PM PT): The issue impacts the infotainment system. In most cases, the rest of the vehicle systems are still operational. A vehicle reset or sleep cycle will not solve the issue. We are validating the best options to address the issue for the impacted vehicles. Our customer support team is prioritizing support for our customers related to this issue. Thank you.
Rivian is still working on a fix. And perhaps regretting this gif on its website: