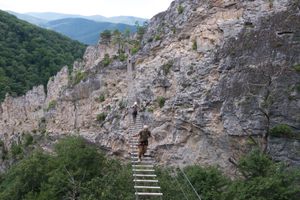 War can leave behind strange legacies. One such odd creation is the existence of Via Ferrata, or "iron path," a system of steel rungs and cables built into the side of mountains.
During World War I in the Dolomites mountains of Italy, the mountainous peaks became the heated site of battle between the Austro-Hungarians and Italians. Fixed lines of steel cable were installed to help transport goods so climbers could clip into the lines and be less afraid of falling to their deaths. It was a brutal, icy, battle on those mountains, with soldiers freezing, starving, and falling to their deaths when they weren't being shot at or blown up. However, after the fighting was done, the Via Ferrata remained, ready for adventurous climbers to clip in.
Decades later, during World War II, and halfway around the world in West Virginia, the 10th Mountain Division was training to fight on very similar terrain in the Apennines of Italy. To do so, they used the closest analog they could find: Nelson Rocks.
The Nelson Rocks, situated in the Monongahela National Forest, are famous for their two fins, thin ridges of rock bursting up 800 feet above the streams running through the forest below. Built in 2002, by private owner Stu Hammett, the Via Ferrata is one of only three found on the east coast of the United States.
Climbers go up over 1000 feet of elevation and cross a 200-foot-long suspension bridge on the trip. One of the real draws of Via Ferrata is that it allows non-climbers to take routes, and access heights that would otherwise be too dangerous or technical for them.