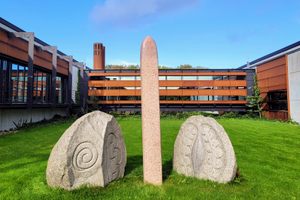 Originally erected in 1991, the Kløvet sten ("Split Stone") sculpture, created by the late sculptor Frede Troelsen, explores profound questions about life, growth, and death. This artwork consists of three stones: a monolith-shaped piece of Swedish granite positioned between two halves of a natural stone, creating the impression of being cleaved. Notably, the stone carving has been described by locals as bearing a resemblance to the male reproductive organ, adding an intriguing layer to its interpretation.
For 28 years, the stonework stood in front of Ansgar Church in Odense, drawing considerable attention of the wrong kind due to its phallic appearance. As a result, numerous church visitors expressed their discontent with its "inappropriate" placement. In 2019, an initiative to landscape the church's surroundings prompted a request from the parish council to the municipal authorities, which owns the land, for the sculpture's removal. The decision, as explained by a church spokesperson, wasn't driven by a shift towards puritanism, instead, it aimed to clear the area and restore an unobstructed view of the church.
A few months later, the stone carving found a new home in a rear courtyard at the University of Southern Denmark (SDU) on the outskirts of Odense, with assistance from the sculptor's widow, Birgitte Thorlacius, who had connections with the institution. Although now in a less prominent location, Thorlacius appreciated its placement within the lush campus environment, emphasizing the contrast it offered to its previous austere surroundings. Furthermore, she clarified that her late husband did not intend to create a phallus; instead, the stone arrangement represents a chisel, the tool for splitting stones, along with two divided rock portions.