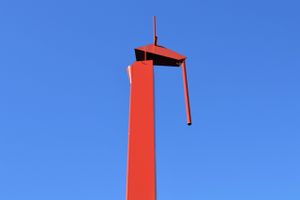 A 22-meter cast iron statue known as la Fuente Pública (the Public Fountain) was created in 1984 by the Valencian architect Miquel Navarro, commissioned by Aguas Potables for 5 million pesetas. It was built to commemorate water entering the city through the Turia-Júcar Canal from the Júcar River.
Because of its resemblance to the Pink Panther, a beloved cartoon character that debuted in the 1960s, the fountain is known as "La Pantera Rosa." It changed color from its original pinkish red to pink, only to be painted back to its original red hue.
Having led to criticisms for its controversial look and placement in the city, it is a must-visit for its rather strange connection to the cartoon character. Many locals can agree that it looks rather odd, leading to the idea behind its creation often being missed.