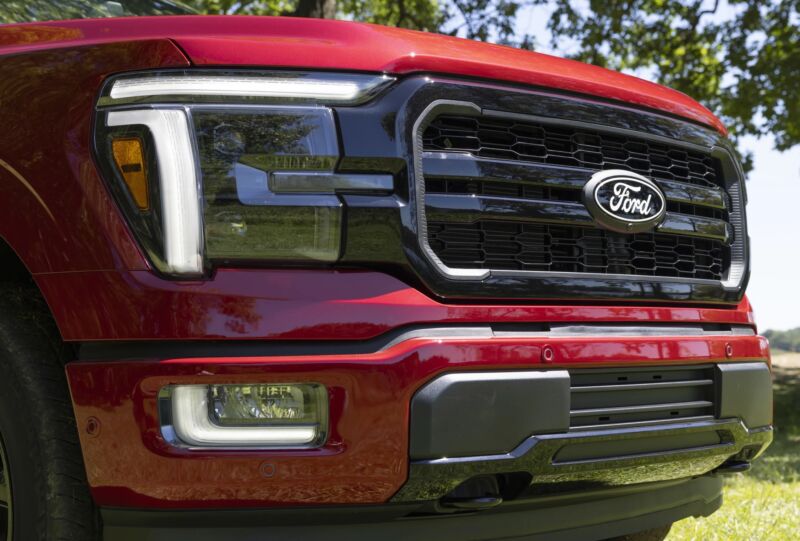 Ford has just revealed the mid-life refresh for its popular F-150 pickup truck. Among the changes to the F-150 lineup are standard LED lights, a new grille, new wheel designs, and standard Sync 4 infotainment across the range.
Ford has dropped the naturally aspirated 3.3 L V6 as the entry-level motor, replacing it with a turbocharged 2.7 L V6 EcoBoost. But from our perspective, the most interesting news to come from this update is that there's now no price difference between the best-selling turbocharged 3.5 L V6 EcoBoost engine and the hybrid 3.5L V6 PowerBoost.
"We're making hybrid more accessible to our customers, giving them the power of choice by offering it at the same price as the 3.5-liter EcoBoost. This is the latest example of Ford democratizing technology for all truck customers," said Andrew Frick, vice president of sales and trucks at Ford Blue, the division of the company responsible for internal combustion engine-powered vehicles.
Most attention of late has gone to that other electrified F-150 pickup, the battery-electric Lightning. It made a big impression on us when we tested the Lightning last year, but a series of price increases scared off customers to the point that Ford cut its price heavily in July. The automaker says that its Model e division, which is in charge of EVs, will continue to lose money this year, but as a consequence of scaling up production to 150,000 Lightnings a year.
Currently, 10 percent of F-150 sales are for the hybrid variant, Ford says. But it's doubling production of this powertrain and giving it price parity with the 3.5 L V6 EcoBoost—the automaker says that scale is what allows it to cut the hybrid's price.
In truth, the hybrid F-150 is not that much more efficient than the 3.5 L V6, offering a combined 23–25 mpg (10.2–9.4 L/100 km) versus 20–21 mpg (11.8–11.2 L/100 km), but it offers conveniences like 2.4 kW onboard AC power (upgradeable to 7.2 kW). And the ubiquity of gas stations means the range hit from towing feels less painful to customers than if they were in a BEV truck.