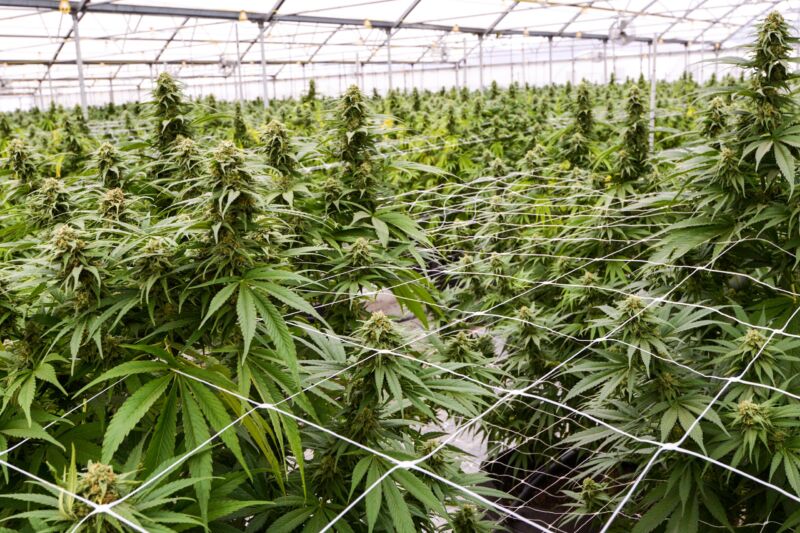 As dozens of states have legalized recreational and medicinal use of marijuana in recent years, the federal government has maintained its classification as a Schedule 1 controlled substance—keeping marijuana in a group defined as having "no currently accepted medical use and a high potential for abuse," which includes heroin and LSD.
The incongruity has muddled marijuana regulation and enforcement, stifled cannabis businesses, and hampered medical research. But the situation could soon ease.
The Department of Health and Human Services has recommended to the Drug Enforcement Administration that it should downgrade marijuana from a Schedule 1 to a Schedule 3 controlled substance, which is defined as having "a moderate to low potential for physical and psychological dependence." The move would put marijuana in the ranks of ketamine, testosterone, and products containing less than 90 milligrams of codeine.
HHS's recommendation is based on an evaluation done by the Food and Drug Administration, which was part of an official review process. Whether the rescheduling will occur is ultimately up to the DEA, however.
The DEA confirmed to the media that it had received HHS's recommendation and will now conduct its own review, which could take months.
Some experts expect the DEA will follow the HHS's recommendation. Howard Sklamberg, a former FDA official, said the HHS position is "a big deal," and predicted the DEA would follow suit, according to The Washington Post. He reasons that the DEA has to rely on the HHS for scientific and medical information, which strongly influences scheduling.
Sklamberg added that the downgrade would send the message that marijuana is less of a public health risk than the government has previously indicated. "That could make it easier in some states to legalize and decriminalize" marijuana, he said.
For states that have already legalized marijuana, some state administrators say the rescheduling would have limited impact.
"This adjusts the type of security and type of bureaucracy that exists around federal research into the substance [and] it would make it easier for companies to bring cannabis based pharmaceuticals into market," John Hudak, director of Maine's Office of Cannabis Policy, told Politico in an interview. "But in terms of administration of a state program, it has very little impact."
Currently, 23 states and Washington, DC, have legalized recreational marijuana, and 38 states have legalized medicinal use.
While groups that oppose marijuana legalization criticized the HHS's recommendation, some advocates say the rescheduling doesn't go far enough and that marijuana should be removed from the controlled substances list entirely.