Everton have signed an agreement for 777 Partners to acquire Farhad Moshiri's full stake in the club.
The multi-club investors have been in discussions with Everton majority shareholder Moshiri since the news that New York group MSP Sports Capital had ended its exclusivity agreement with Moshiri, who owns 94.1 per cent of the club's shares.
The 777 group already has a number of football clubs in its portfolio, including Sevilla, Genoa, Hertha Berlin and Standard Liege, with the fans of the Belgian side holding a demonstration criticising the owners' involvement at their last game.
The transaction is set to be closed in the fourth quarter of 2023 and remains subject to approval from the Premier League, FA and the Financial Conduct Authority.
Despite investing more than £750m since 2016, some Everton supporters have been unhappy about Moshiri's ownership. They held protests before some games at Goodison Park last season calling for Moshiri and the board to leave.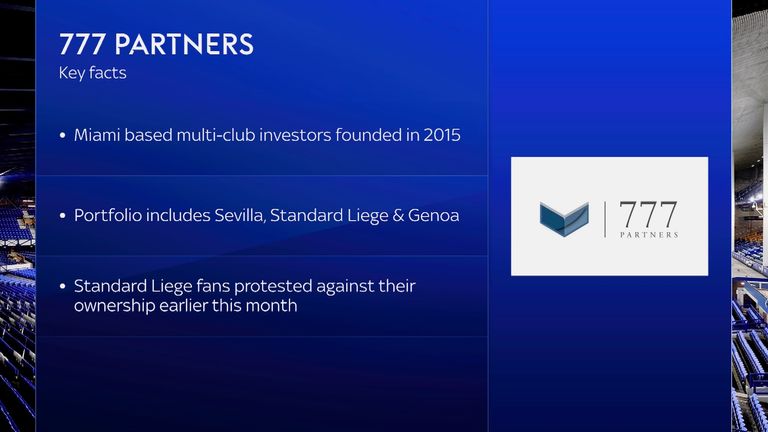 Sean Dyche's side return from the international break with a home game against Arsenal on Sunday, live on Sky Sports.
Moshiri: 777 are best partners to take club forward
Moshiri, a shareholder since 2016 and majority shareholder since 2018, said: "The nature of ownership and financing of top football clubs has changed immeasurably since I first invested in Everton over seven years ago. The days of an owner/benefactor are seemingly out of reach for most, and the biggest clubs are now typically owned by well-resourced PE firms, specialist sports investors or state-backed companies and funds.
"I have been open about the need to bring in new investment and complete the financing for our iconic new stadium at Bramley-Moore Dock, on the banks of the Mersey, which I have predominantly financed to date. I have spoken to a number of parties and considered some strong potential opportunities. However, it is through my lengthy discussions with 777 that I believe they are the best partners to take our great Club forward, with all the benefits of their multi-club investment model.
"As a result of this agreement, we have an experienced and well-connected investor in football clubs who will help maximise the commercial opportunities, and we have secured the complete financing for our new stadium, which will be the critical element in the future success of Everton. Today is an important next step in the successful development of Everton and I look forward to closely following as our Club goes from strength to strength.
"Of course, none of this could have been achieved without the hard work of everyone at the Club. From our team at the training ground, our commercial and support teams through to matchday employees, I extend my sincerest gratitude.
"And to our fans, the last few years have been challenging but you have supported the Club through it all and consistently been our twelfth man. You are the best fans and deserve success."

Sunday 17th September 4:00pm


Kick off 4:30pm

Josh Wander, Founder and Managing Partner of 777 Partners, said: "We are truly humbled by the opportunity to become part of the Everton family as custodians of the Club, and consider it a privilege to be able to build on its proud heritage and values.
"Our primary objective is to work with fans and stakeholders to develop the sporting and commercial infrastructure for the men's and women's teams that will deliver results for future generations of Everton supporters. As part of this, we are committed to partnering with the local community over the long-term, working on important projects such as the development of Bramley-Moore Dock as a world class stadium venue, allowing thousands more Evertonians to attend our home matches and contribute to the economic and cultural regeneration of Merseyside."