It's the early 2000s and Cheick Doucoure is about to take his first steps as a baby.
"This is a story my father told me," he tells Sky Sports. "I hadn't started walking yet, so he waited on one side of the room with a football. Then I just stood up, walked towards it and took it."
The now-Crystal Palace midfielder was effectively reading the game when he was still in his nappies – so, looking at Doucoure's form since coming to the Premier League, it's no surprise to see him doing the same at this level.
Last season's debut campaign in England saw him rank second, only behind Declan Rice, for Premier League interceptions across the whole division. He was also in the top 10 midfielders for tackles, clearances and winning the ball in the defensive third.
This season, he has started the season with similarly high numbers. No wonder it was reported that Liverpool were interested in him late in the summer transfer window just gone.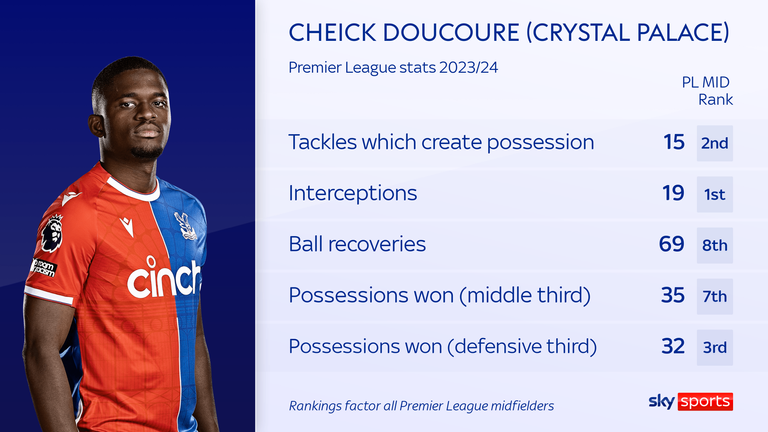 "I don't have a secret!" says the 22-year-old when asked about those stats. "It's the work on the training pitch. I always try to get better, by watching videos of some of the best Premier League midfielders. I learn from that and then continue to work.
"I watch a lot of N'Golo Kante from when he was at Chelsea and Leicester. He's someone who did a lot running, he was always in the duels and interceptions. Yaya Toure too, I've watched him all the time since he was younger."
So from that moment when he walked for the first time as a toddler, Doucoure had to become the footballer he has gone on to be.
But not because it was fate, or he was drawn to that career very early on in life, but because his family had to find some income.
Despite being born in Mali, Doucoure grew up in the Abidjan area of the Ivory Coast. His mother traded in a local food market while his father was a retired port worker.
There was not a lot of steady money coming in and Doucoure's parents could not afford to send him to secondary school.
"Honestly, it wasn't easy. My family couldn't afford much," Doucoure recalls. "I tried to be happy every day, as my parents gave me everything I could ever need. Especially in football."
That's where Doucoure's father comes back in, as once that infant turned into a player with potential, it was mutually agreed between father and son a successful football career had to be achieved for the sake of the family.
"He's so, so important to my career," says Doucoure about his father. "My whole family were, but my father most of all.
"On a football level, he really tried to encourage me, drive me and push me forward. Sometimes it wasn't easy, but he was always there to push me. Now, he's really proud of me."
Doucoure's big breakthrough came courtesy of the Jean-Marc Guillou (JMG) academy, which is renowned as one of the major key developers of African talent.
Founded in the Ivory Coast by Guillou, who once mentored a young coach named Arsene Wenger at Cannes in the 1980s, the academy launched the careers of the Toure brothers, Yaya and Kolo, along with Emmanuel Eboue, Salomon Kalou and Gervinho.
When the academy moved to Mali, it helped find and develop Yves Bissouma, RB Leipzig's Amadou Haidara – and it gave Doucoure his football opportunity, an education – plus his family the chance to move back to their home country again.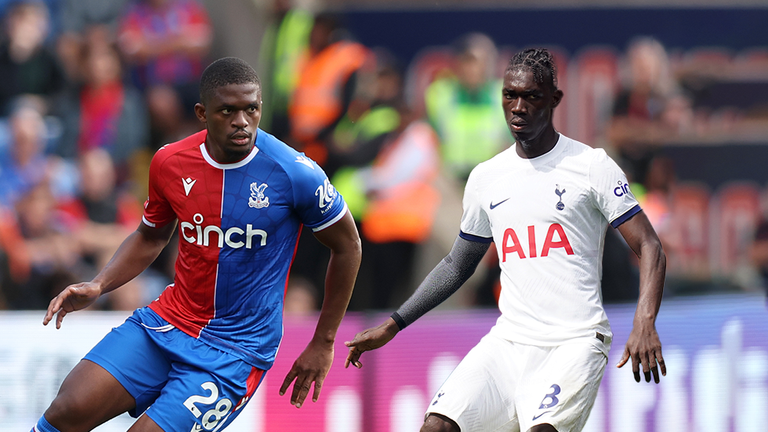 "Jean-Marc Guillou is such a great coach and tutor," Doucoure remembers. "He taught us the way and what to do. And since I was young, I've known what to do, I've known the work I've needed to do, morning, noon and night and every single day.
"There were special footwork games, heading games, shoulder games – all to really improve the technique. And that's why so many of us in the academy have come out so well.
"He's someone who has allowed so many players to be where they are all over the world, and they're good players too. We are really proud of that and so is he, looking back at what has happened.
"I know I wasn't the best in the academy. But today, looking at my work and where I am, I am really happy with where I am."
In the academy, Doucoure had a special way of relaxing himself – through playing Sudoku puzzles. "I played it from time to time. One of our teachers showed it to me, so I played it from time to time.
"I've stopped, I'm more of a PlayStation person now! For me, it was about mental training. I think it's helped me gain more and more of those interceptions!"
That last comment was a little tough-in-cheek, but Doucoure's midfield numbers cannot be laughed at. It's beneficial to Palace, as the 22-year-old and summer signing Jefferson Lerma form a crucial part of an Eagles side who – along with Arsenal and Newcastle – have the most clean sheets out of any Premier League team this season.
"Yeah, he's really great," says Doucoure of Lerma. "He's come in and straight away and had an impact on the team.
"He's brought a sense of calmness and we are trying to get the best out of him. Every game, he's giving the best he's got. We're happy with him and we need to continue working well with him.
"Last season, I played a little on my own as a holding midfielder. Since he's come in, we've played as a two and he's helped me a lot.
"Us two, we both have profiles that go well together. We try to better each other when it comes to getting on the ball and winning duels. We do a great job in the middle of the park and it needs to carry on like that."
Doucoure plays with Lerma at club level and will be looking to form a Mali midfield partnership with Bissouma when the Africa Cup of Nations comes in January. Of course, he and Bissouma know each other well from their days playing together at the JMG Academy.
Bissouma is five years Doucoure's senior and, with the Tottenham midfielder challenging for the Premier League and a spot in the Champions League, is that where he is heading?
"Yeah definitely," he says. "The aim is to play at the highest level of football. I'm doing all I can to achieve this and as I continue to work, I hope that one day I will get to that level."
But is that goal achievable at Palace? "Yeah, I hope to grow with the club. I hope that the club also has this ambition to reach the highest level. So I hope that we get there together."
FREE TO WATCH: Highlights of Burnley against Crystal Palace in the Premier League

Why not? Palace have been defensively sound this season and with young talents Eberechi Eze and Michael Olise close to full fitness – and tied down to the club for many years – the attack could be firing on multiple fronts too.
"Yeah I think the first part of the season has been a bit mixed. At times we've done well, sometimes less well," Doucoure says.
"We're trying to always get better on the small details and I think the second half of the season is going to be better."
Follow Crystal Palace vs Everton on Sky Sports' digital platforms this Saturday via the live blog from 1.30pm; kick-off 3pm. Then watch free highlights from 5.15pm…