Mikel Arteta hailed Arsenal's "will to win" as they hit Manchester United with an exhilarating late show that will live long in his memory.
Declan Rice and Gabriel Jesus scored stoppage-time goals to take Arsenal to a famous 3-1 win over United.
In a game packed with drama, United thought they'd won it themselves in the final minutes when Alejandro Garnacho broke free to score but a close VAR offside call denied him his moment. Arsenal then sent the home fans into bedlam with goals in the 96th and 101st minutes.
"We all worked so hard and planned everything for moments like this," Arteta said.
FREE TO WATCH: Highlights from Arsenal's win against Manchester United in the Premier League.

"These moments will stick with us, with the crowd so connected to the team with the big history of these matches, it's great.
"The will, the determination of the team, that will to win and go and go and go, I'm so proud of them.
"A team needs different tools to win football matches, and the capacity to react. We did that in the first half and that set the tone and brought some calmness to the team."
Gary Neville was full of praise for matchwinner Declan Rice as his stoppage-time goal helped Arsenal to a 3-1 victory over rivals Manchester United.

Rice was scoring his first goal for the club since his club record £105m move from West Ham and his manager hailed his contribution.
He said: "A tremendous performance from Rice. As a holding midfielder, how he needs to dominate his area, to break up play. He was really dominant. And then he produced a magic moment to win us the game. You need to have that quality, that composure and he had it.
Declan Rice says he will put his goal on repeat after scoring late in Arsenal's win over Manchester United.

"He's a great kid. A good mixture between being extremely demanding with everybody, himself and banter and being around the boys in a humble way.
"When you see the technical ability he has and how he delivers in these moments… when he shoots from range, with both feet, and he has the timing with his runs. The position will determine how many goals he scores but he's got the ability to do that."
Roy Keane believes Arsenal are currently Manchester City's strongest challengers while Gary Neville thinks the Gunners aren't currently at their best.

Arteta's wooing his wife analogy to help Havertz
Arsenal thought they'd been handed a chance to go in front on the hour mark when Kai Havertz went down in the box and a penalty was awarded. But the decision was overturned to cap another frustrating day in an Arsenal shirt for Havertz, who also fluffed a big chance in the first half.
Arteta remains assured of Havertz coming good at the club comparing the situation to the struggles he faced wooing his wife in the early stages of their relationship.
"I said to him yesterday: things are hard at the beginning. When I met my wife, at the beginning it was hard to conquer her. It was hard, I had to try and message her, and go, and go. And at the end when she says 'yes we can be together' it's beautiful."
Neville: Encouraging signs for Arsenal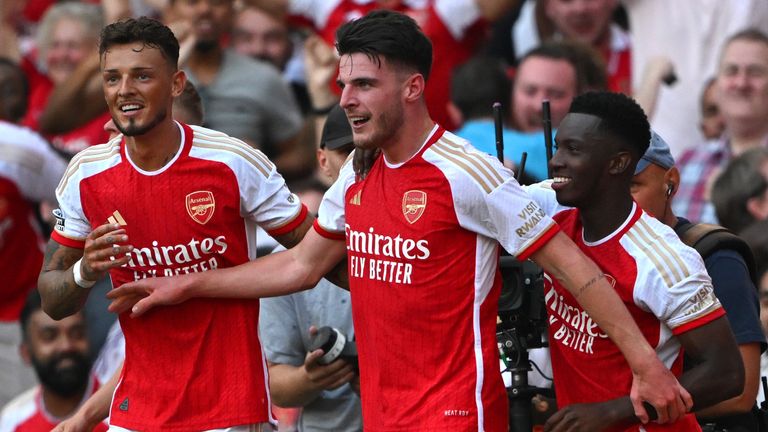 Sky Sports' Gary Neville:
"It would feel like that [more than three points]. It's brilliant for the dressing room and obviously despair for the losing team, but for Arsenal it's magnificent.
"For Declan Rice to get the goal, I think it was big. Rice is the big signing of the summer so for him to settle in will be crucial for him. He's just connected with this whole stadium if he hadn't done already.
With the money that Arsenal's invested in the summer and the season they had last year, they will want to be in that run-in again with 10 games to go in the same position whereby they can prove to themselves that they can get to the top.
"Manchester City are an outstanding team so you can't be four points behind them even after four games. They'll punish you and they put pressure on you. Arsenal are going to have to do what they did today [Sunday] throughout as there's going to be no let-up.
"They started last season like a house on fire and they were unbelievable in that first half of the season and then they fell off at the end.
"The fact they've not been at their best and they've picked up 10 points out of 12 isn't a bad thing. The form really needs to start coming after Christmas in February and March.
"They need to be playing better than they are at the moment but I wouldn't worry about it too much at this stage that they're not fully fluid as they're bringing new players into the team in Kai Havertz and Rice.
"I wouldn't be overly worried and I'd be encouraged by the fact they've got 10 out of 12 points."
Keane: Arsenal are City's strongest challengers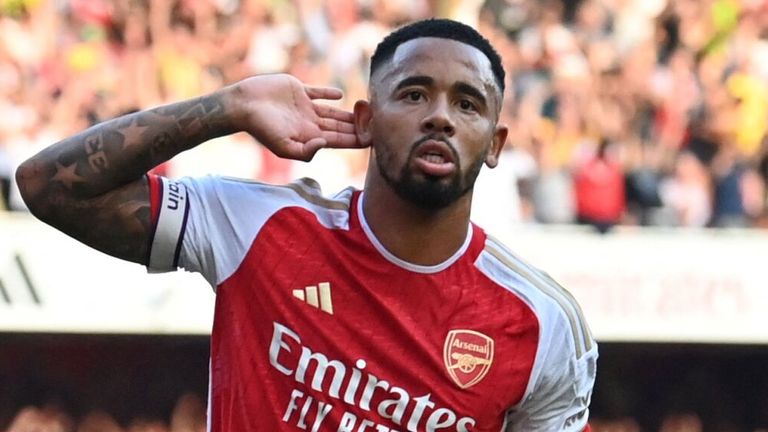 Sky Sports' Roy Keane:
"Last year, Arsenal proved to be the best of the rest and I think they are probably the strongest group amongst the other teams at this moment in time.
"I still think the gap to Man City is there, but this is a big win for them.
"The momentum, spirit and quality it gives them. The feel-good factor is with Arsenal.
"If they had dropped points today, I think it would have been a huge step back for them.
"However, it's chalk and cheese with the result against Fulham and they have a big spring in their step now."