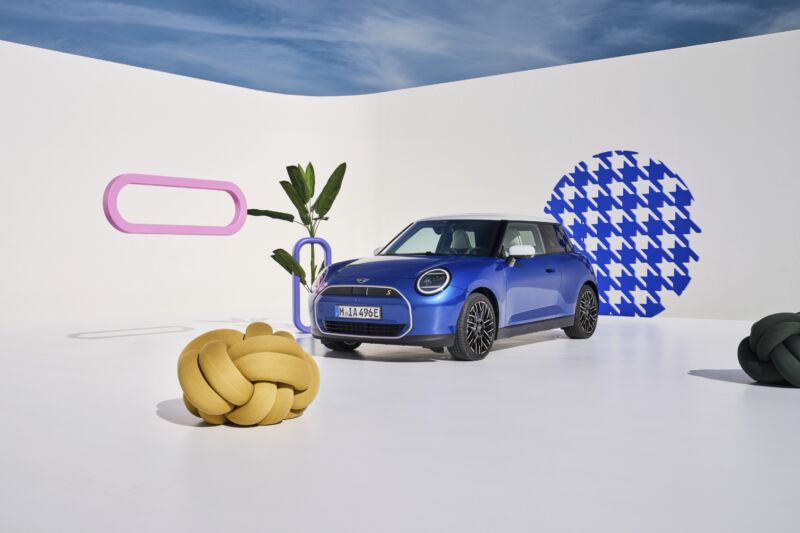 The 2020 Mini Cooper SE showed that an all-electric Mini could deliver big electric vehicle fun in a little package. However, the real-world viability of that wee bundle was saddled with terminally short longevity: just 110 miles (177 km) of range. For 2025, Mini is leaning into electrification in a big way. Next year's Cooper E and SE carry on that emissions-free legacy, now with some decent range to match.
Mini has done some re-shuffling of its models and trims, so let's start by sorting that out. First up is the Mini Cooper, which going forward is the name for the three- or five-door configurations, including the Convertible. While there are gas-burning Cooper and Cooper S models coming, today Mini is only unveiling the purely electric Cooper E and SE, which will be built on a wholly different platform.
Those Coopers will be available in four purely cosmetic trims: Essential, Classic, Favoured, and JCW (which features black logos, racing stripes, and a Chili Red roof).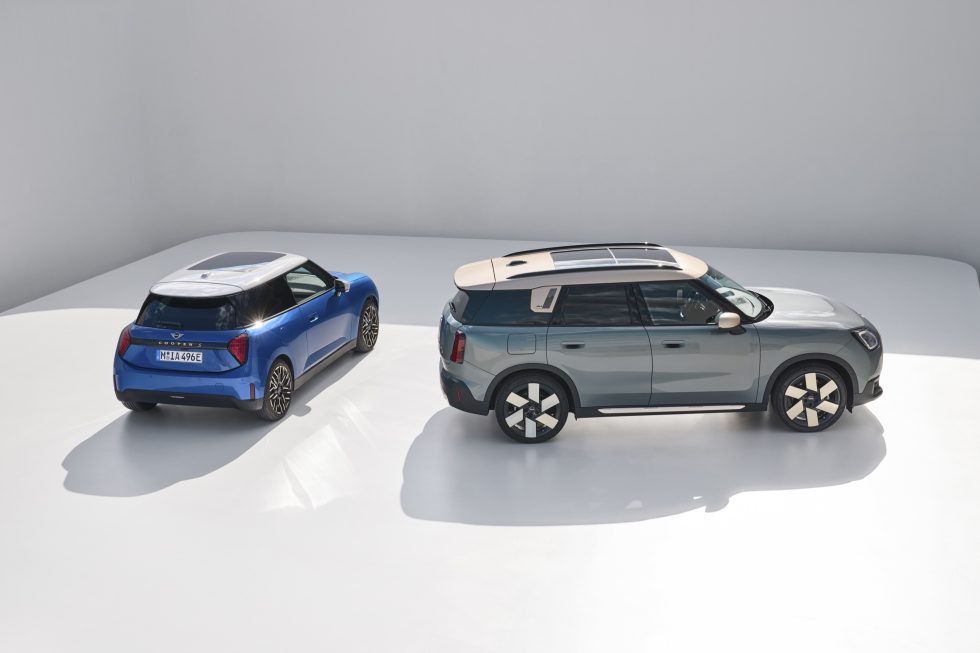 Looming over that is the new Mini Countryman, fully embracing its crossover SUV status, bigger and more capable now, available as either an EV or with traditional, gasoline-powered engines.
Let's start with the electric Cooper, which in Cooper E trim makes 184 hp (137 kW) and 214 lb-ft (290 Nm) of torque, good for a 0 to 62 mph (100 km/h) time of 7.3 seconds. More importantly, Mini is targeting an estimated 190 miles (305 km) of range on the European WLTP cycle from its 40.7 kWh battery pack. On the more difficult EPA test cycle, that should make for around 175 miles (281 km) of range, give or take.
Step up to the SE and you not only get more power, 218 hp (163 kW) and 243 lb-ft (330 Nm) bringing the 0-62 down to 6.7 seconds, but also a bigger 54.2 kWh pack. That's good for 250 miles (402 km) WLTP, or ballpark 215 miles (346 km) EPA.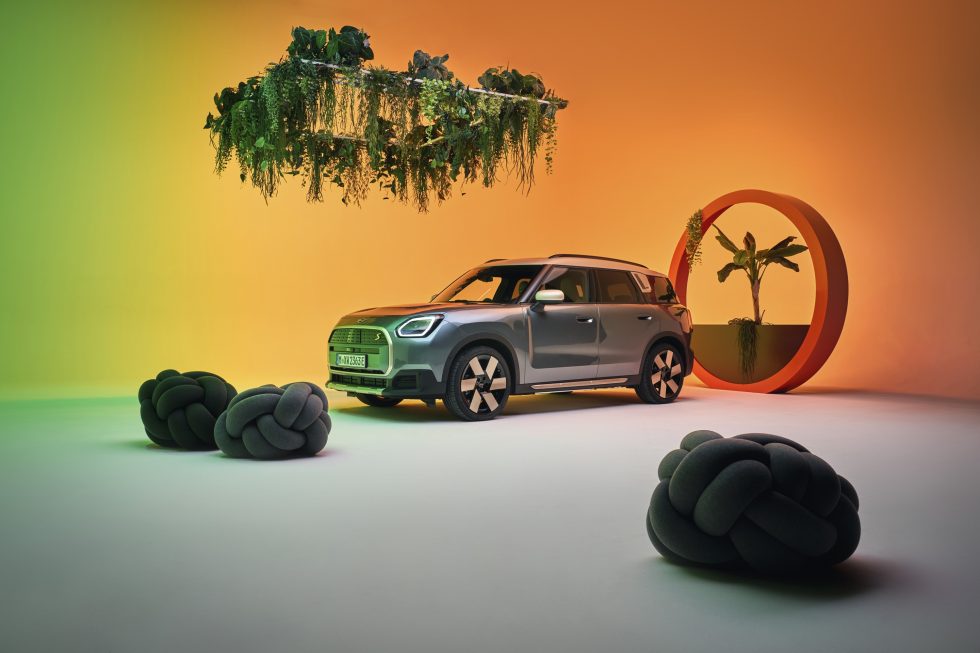 The 2025 Countryman is even bigger than the outgoing model, 2.4 inches (60 mm) taller and 1.2 inches (30 mm) wider. The Countryman E has 204 hp (152 kW) and 184 lb-ft (250 Nm) of torque, good for a 7.3-second 0-62 time. Mini is targeting 287 miles (461 km) WLTP, or about 250 miles (402 km) on the EPA cycle.
The Countryman SE ALL4 gains a motor to provide all-wheel-drive, with power and torque rising to 313 hp (233 kW) and 364 lb-ft (493 Nm), respectively, but the range dropping to 269 miles(476 km) WLTP, or roughly 235 miles (378 km) EPA.
If you're not ready for the EV lifestyle, the Countryman will have you covered with four more trims, all with internal combustion: the front-drive Mini Countryman C, the all-wheel Mini Countryman S ALL4, and the hotted-up Mini Countryman JCW ALL4. No specs are available on these models just yet.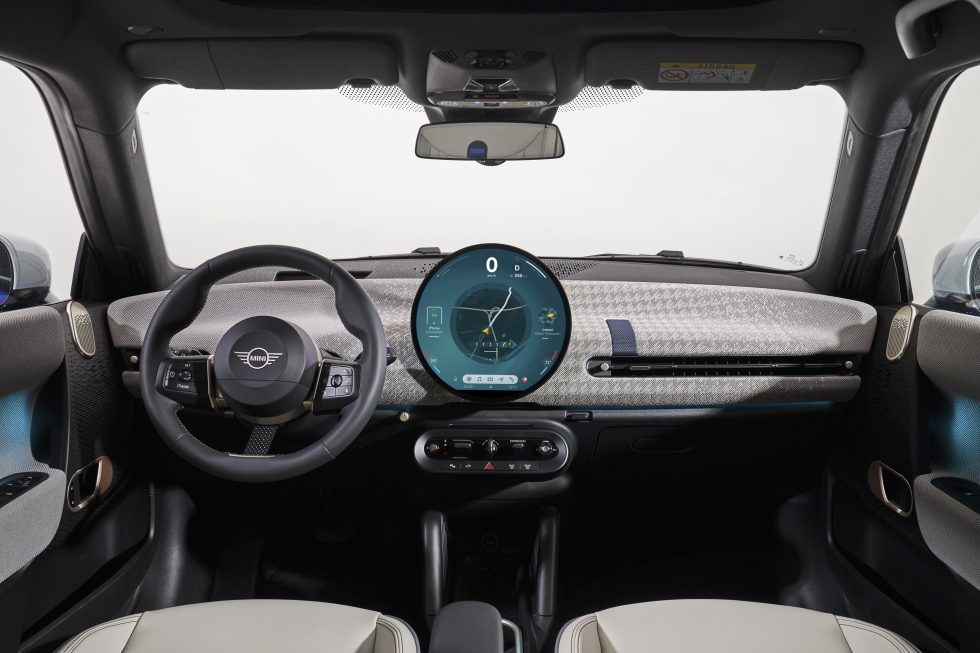 While Cooper's range numbers are much more impressive than the outgoing Mini SE, some of the charging rates leave a bit to be desired. The Cooper E's max charging speed is just 75 kW, while the SE manages 95. Both improve upon the outgoing SE's 50 kW but are low relative to many modern EVs. That's offset, however, by their small battery packs. Both EV flavors of the Countryman at least step up to 130 kW.
Any disappointment regarding charging speeds will be quickly erased as soon as you see those interiors. Both the Cooper and Countryman offer radical designs, with dashboards covered in woven, recycled fabrics that act as a visual light-stage for projectors integrated into the back of the floating 9.4-inch circular OLED panel that serves as infotainment and gauge cluster.
This so-called "Mini Interaction Unit" runs Mini Operating System 9, built on top of Android and said to offer snappy performance plus some mobile device-like features. This includes OTA updates and integrated multiplayer games that you can control using your smartphone of choice. The UI is extensively customizable and, while Mini doesn't call it out, Android Auto and Apple CarPlay should be a lock.