As a digital storyteller constantly navigating the fast-paced social media landscape, there's nothing I love more about my job than, funnily enough, disconnecting and slowing down. This gift guide curated by yours truly includes selections that aren't just gifts – they're little moments of joy that elevate the mundane. Whether it's to reset, rejuvenate, or fuel my creative spark, these are some goodies I've got my eye on, and I hope they bring as much joy to your gift receiver as they would to me!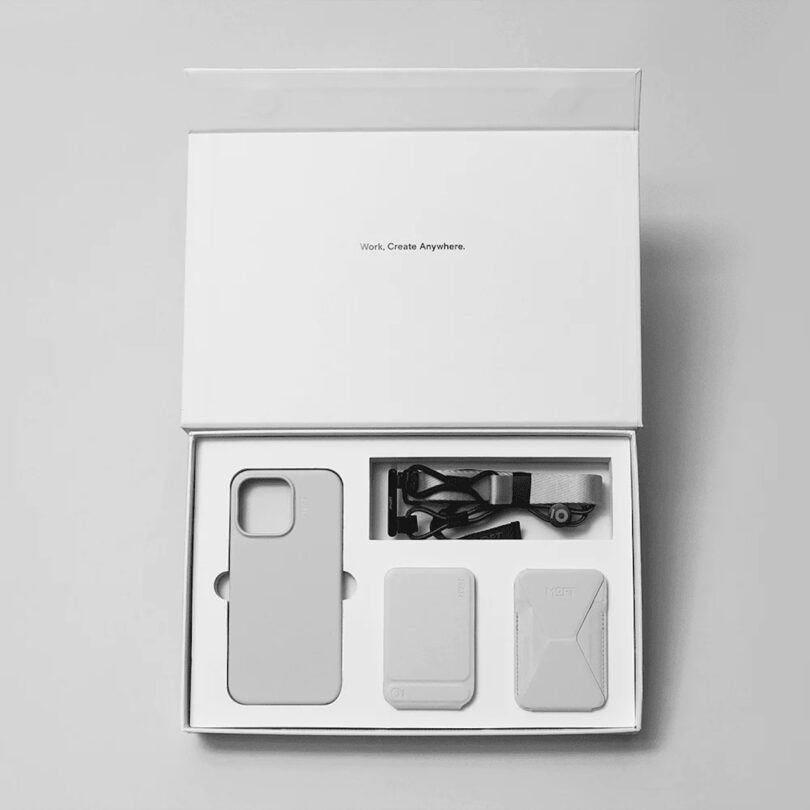 This all-in-one kit is the perfect gift for all the social media managers, content creators, and Gen Z-ers in your life. It has everything you need to create content, and the best part is that it's all so sleek and compact. Included are a phone case, tripod stand, snap-on stand/wallet (all of which connect via MagSafe-compatible devices and accessories), and a lanyard. If you need some inspiration, I suggest checking out Moft's reels!
I'm not one to change my phone case often, but I definitely would if I had more than one to switch around! Casely has so many fun, protective cases but their recent collaboration with The Met for The Monet Series is a dream. To top it off, they currently have a BOGO promotion going on, and pairing a case with a power pod would make for such a great gift.
Towels have never been on my radar because I strangely saw showering as a tedious task. That may be an unpopular opinion, but that all changed when I realized a quality towel was what I needed. I love all things checkered and these immediately won me over! This pool towel (which no one will know if you're using it in the bathroom) is thoughtfully made in Portugal with 100% organic cotton and comes in so many fun colorways, so you'll definitely find something for the very lucky person you're shopping for.
There's something about a nice robe that makes any routine feel elevated. Whether it's in the morning or at night, slipping into a robe reminds me to take things slow and not be so on the go. If you happen to know if your gift receiver runs on extremes, this one is the perfect medium to keep them just right.
I never thought I'd want bedding as a gift, but here I am! Quality bedding makes such a difference, and when it's the end of a long day and you're curling up in bed, there's nothing better than feeling like you're on a cloud. Kotn uses 100% long-staple Egyptian cotton, also known as "white gold," for that super luxe, soft feel. It's also ethically and sustainably sourced directly from small-holder family farms, so you know exactly who it is you're supporting.
I initially wanted to mention Malin+Goetz's new Strawberry collection because strawberry anything is very in right now. However, they recently released their holiday sets, and it really checked off two things for me: a gift for the candle lover and a gift for the design lover (and a gift for the person who's both, so I guess that's three things!). For a limited time, their bestsellers come perfectly packaged in beautifully printed boxes that pay homage to the female printmakers of the Bauhaus era. Whether you're looking for little stocking stuffers or something to splurge on, these gift sets are a great way for your recipient to discover their signature Malin+Goetz scent (which are all gender-neutral, so it's a win-win).
We all have that friend who loves to light incense and burn sage (aka me, I'm that friend) and this ceramic chiminea from Paddywax is so precious! It includes 20 palo santo and sage incense cones and would look good wherever you place it.
I recently discovered DIME and really appreciated their initiative to create luxury products that are clean, sustainable, and cruelty-free. My favorite scent from them is Lovely Sweet Dreams! It's light, yet long-wearing – all while being non-toxic. If you're unsure of which fragrance to go with, they have a sample set of their bestsellers, or you can mix and match their duos to give your giftee some options.
I've never received a mug I didn't like – mainly because they're so fun and dangerously easy to collect. When I'm reaching for a mug, I like to pick according to my mood and, for some reason, this wavy set just brings a smile to my face! It also comes in pink, amber, and clear, so you can personalize it to your recipient. Cute and functional – you can't go wrong!
OWIU Goods creates the most stunning ceramic pieces, and their Simple Matcha Set is something I've had my eye on for the longest time. My morning matcha routine really sets the tone of the day for me, and having a set like this would elevate the whole experience. After all, who can have a bad day when you remember little pieces like these are made from the hands of another, all with the goal of making everyday living more beautiful?
Follow along so you don't miss any of our 2023 Gift Guides this year!
This post contains affiliate links, so if you make a purchase from an affiliate link, we earn a commission. Thanks for supporting Design Milk!